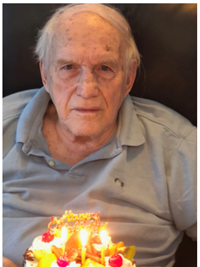 Lorne Earl Thomas
On July 1, 2020 Lorne Earl Thomas , loving husband, father and grandfather passed away in Edmonton.
Lorne was born on April 8, 1929 in Edmonton, the son of Alvina( Sampert) and Phillip Thomas. Lorne was predeceased by his parents Alvina and Phillip Thomas and his siblings, Loreen Frey, Vivian Howard, Don Thomas and Elvin Thomas
Lorne married Doreen (Krebs) on July 3, 1953 making their home in Edmonton. Lorne began his career with EECOL Electric working for 45 years within the company until his retirement.
Lorne is survived by his loving wife Doreen of 66 years, daughter Colleen (Rory) Calhoun, son Rick Thomas, his three grandchildren Lauren Thomas, Sally Thomas And Sean Thomas, numerous family, friends, and colleagues.  Lorne will be fondly remembered by all those who knew him.
Due to restrictions and safety measures associated with the current Covid-19 pandemic, a private burial/service will occur on July 10, 2020 for the immediate family only.
A Celebration of Life will be held at a future date.