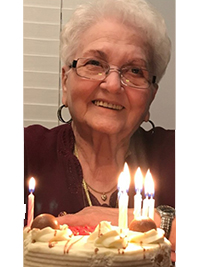 Louise Erhardt
March 29, 1938
-
September 16, 2021
It is with heavy hearts that we announce the passing of a loving Wife, our Dear Mother and Nonna, Louise Erhardt on Thursday, September 16, 2021 at the age of 83.
Predeceased by her mother Elia Zucatto (DeLorenzi) and father Francesco, she is survived and cherished by her devoted husband of over 60 years Gib, children Alex(Gisella) Erhardt, Della(Ralph) Hahn, Donna Piffard, step children Clyde(Kathy) Brazer and Sherri Brazer, and sister-in-law Joyce Parlin.
Very close to her were her grandchildren Michael (Tamara) Hanna of Thunder Bay, Daniel and Sabrina Crupi of Edmonton with numerous other grandkids across the country, Kylie and Robyn (nee Hanna), Greg & Jennifer Ritchie, Michael(Sarah) Manchuk, Brent (Tasha) Manchuk, and Great Grandkids, Preston, Brayden and Devin, Isabella, Ezra, Anastasiya, Linus and Hunter with many dear cousins, nieces, nephews, aunts and uncles throughout Canada and Italy.
Louise was born on March 29, 1938 in Bannia, Udine, Italy where she lived until the age of 10. In November of 1948 she and her mother left Italy on an incredible journey across the ocean to immigrate to Canada and in December 1948 settled in the East End of Thunder Bay, Ontario, formally known as Fort William. She attended elementary school at St Peter's and completed high school at St Patrick's. She also attended mass at St Dominic's Church where her faith flourished. One of her earliest memories of her new life in Canada occurred at Purity Bread bakery, when her uncle offered her the first taste of fresh baked bread and she thought she had gone to heaven. This eventually led to one of her passions, baking, where she provided many feasts at home with family and friends.
As a young woman she moved to Winnipeg, MB, and while working for the Royal bank, she met her future husband Gib. He instantly fell in love with her, asked her to marry him, and of course she said yes. They wed on Oct 8, 1960 at the church at Fort Osborne. Returning to Thunder Bay in 1962 to be closer to her mother they settled on Francis Street, between
raising a family and working out of the home Louise accomplished a goal of hers and became a Canadian citizen on March 18, 1976 a proud moment for her and her family. Louise's career also included working at the Ritz's motel and then managing the Golden Pantry bakery for many years where she was well known throughout the community.
Louise enjoyed sewing and knitting and of course cooking and baking for her family and friends. She and Gib spent many seasons at their summer home at Arrow lake in Ontario of over 25 years, with their family and throughout retirement. Many games of cards and dominos played, with many friends and special memories made.
Retirement led to a new adventure and in August 2006 Louise and Gib moved to Edmonton, Alberta to be closer to their kids because to Louise, family was everything; with a new home and new friends to look forward to. She and her husband attended and enjoyed the fellowship of McClure United Church.
A private ceremony for the family will take place after cremation. If friends so desire, in lieu of flowers, donations can be made to the Canadian Cancer Society, the Canadian Diabetes Society or the charity of one's choice.
"You were always there to greet us with a hug and kiss and "I love you". A true caring lady with grace and intelligence, a kind-heart and oh so selfless. Your faith in God, gave you strength, and your acceptance and courage are an inspiration. You will forever be in our hearts."