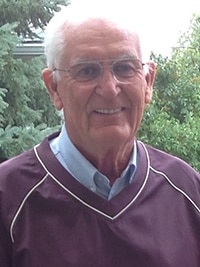 Lyle Russell Henkelman
In the early morning of December 19, 2018, Lyle passed away at the age of 83 at the Mazankowski Alberta Heart Institute.
Lyle was born on May 7, 1935 in Edmonton to Lenora and Allan Henkelman. He is survived by his loving wife of 61 years, Helen, children Blaine with grandsons Justin and Brandon, Mark (Heather) daughters Mariah and Madison, Wendy (Kelly) with grandchildren Jacob and Hayley.
Lyle is also survived by brother Neil with children Allan, Richard, Scott and their families, sister Doreen (Jack) with children Melissa and Jody and their families, niece Lizz and nephews David and Doug with their families.
Celebration of Life
Thursday, December 27, 2018 at 2:00 pm
Trinity Funeral Home Chapel
10530 116 Street, Edmonton.
In lieu of flowers, donations may be made to the Adopt-A-Teen, 200, 4230 118 Avenue, Edmonton or Mazankowski Alberta Heart Institute, 11230 83 Avenue, Edmonton, in Lyle's name.