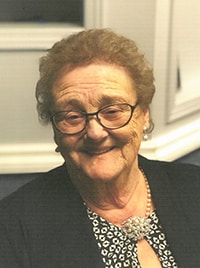 Mable MacDonnell
Heavy hearts does not begin to describe the sadness we feel with the passing of our beautiful mother, Mable MacDonnell. Mom passed away peacefully surrounded by many of the things she treasured most in life, her family & friends. Her gentle soul, sweet nature and unconditional love will be missed by too many people to mention. She touched everyone who was lucky enough to get to know her.
Mom called the Fox Creek hospital home for the final chapter of her life, and that was truly a blessing for her. The compassion and kindness she received by everyone who walked through the doors of her room just cannot be put into words. Her doctors and nurses were not only her caregivers and friends, they were her family. Each and everyone of them held a special place in her heart and provided her with so much joy. They all just did what they needed to do in a way that no one else could do it, always keeping our mothers health and happiness at the forefront.
Mom leaves behind her four children; Doris Pierrard (Leonard), George MacRae (Linda), Jamie MacRae (Missy) & Jocelyn Fitzgerald (Mark), Her nine Grand-children; Shelley Davidson (Richard), James Pierrard (Kristine), Layton MacRae (Sydnie), Keagan MacRae (Brianna), Lennus MacRae (Sarah), Christopher Fitzgerald (Becki), Emily Fitzgerald, Casey Harris (Cody) and Kristie Hall. She truly loved and enjoyed her six Great-grandchildren; Hailey, Abbie & Eric Davidson and Brooklyn, Avery & Brady Harris.
Mom was a mother to so many. Her nieces, nephews, grand-nieces, grand-nephews, and her neighbors were a huge part of her, and she loved and adored every single one of them. She was predeceased by two loving husbands; Ralston MacRae & Edward MacDonnell, her sisters Doris MacAulay & Margaret (Peggy) MacRae and her brother Billy MacKay. She is survived and sadly missed by her youngest brother Reid MacKay and his wife Jean, and her two loving sisters in-law Edna Matheson and Marion MacRae.
When you leave this earth your legacy is only measured by the number of hearts you have touched, and our mother has left a legacy larger than life. Her love for people was immense and her life was filled with so much laughter and enjoyment because of that. We will continue to spread her love from generation to generation, and although she may be gone, she will never truly be far away.
Mom's celebration of life will be held at the Fox Creek Community Hall, Sunday May 12 at 1pm.
In honor of our mother, donations may be made to the Friends of Fox Creek Hospital Society. We will be taking Mom back to Baddeck, Nova Scotia where her heart always remained, at a later time.
We love you Mom, until we meet again. Xoxo