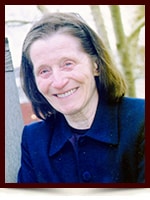 Madeline Valburga Turner (Nee Greiner)
On Wednesday, September 30, 2015 Madeline passed away peacefully at the age of 83 years.
Madeline is survived by her brother Ray (Marie), children Shane (Cora), Cameron (Gwyneth), Dawn, Lance (Charlotte), grandchildren Graeham, Grant, Mallory, Kyle, as well as nieces, nephews and cousins. She was pre-deceased by her husband Eugene. parents Alfred and Oretha, sister Pat and brother-in-law Norm.
Memorial Service
Sunday November 1, 2015 2:00PM
Trinity Funeral Home Central Memorial Chapel
10530 116 Street, Edmonton AB.
In lieu of flowers the family is asking
that you make a donation to one of the
following organizations:
The Mazankowski Alberta Heart Institute,
CNIB, or The Alberta Lung Association