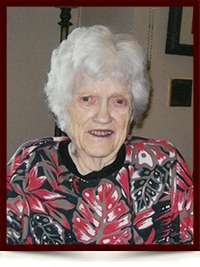 Marie Anna Durling
Marie Anna Durling 93 passed away in Edmonton on January 10, 2017.
She was predeceased by her husband Les in November 1988 and son Lloyd in June 1955, as well as siblings: Omelda, Luciene, Omer, Paul and George.
Marie is survived by her children: Marion (Allen) Wasylishyn, Norman (Lynn) Durling, Glenna (Gordon) Engel, Leslie (Mavis) Durling, Brenda (Mike) Schmutz, as well as 14 grand children, 22 great grandchildren and 1 great great granddaughter. She is also survived by her siblings: Annette, Marion, Rita, Lucien and Maurice.
Funeral Service
Wednesday January 18, 2017 2:00PM
Trinity Funeral Home Chapel
10530 116 Street, Edmonton AB.
Interment
St. Joachim Cemetery
10504 117 Street, Edmonton AB