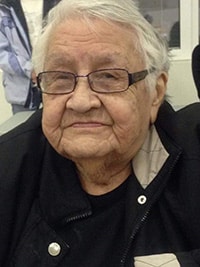 Mary Capot
On March 16, 2019 Mary Vina Capot passed away at the age of 91.
Mary leaves to mourn her husband Phillip Lamouche; children: Olga, Peggy (Dave), Kathy (John), Vern, Philip Jr. (Roger); grandchildren: Kimberly (Quintin), Fawn, Wayne (Cecile), Damon (Misty), Megan (Justin), Lindsay (Thomas), Lacey (Sheldon), Candace, Kayla, Kwanita.
Mary was predeceased by her son Dwayne; grandson Kwandell; brothers Sam, Dan, Punchy, Joe; sisters: Florence, Delphine, Clara
~~~~~~~~~~~~~~~~~~~~
You were sick and tired and we all knew that God would soon come to take you. You fought so hard, so very long, but through the pain, you stayed strong.
We all knew there would come a day when God would come to carry you away. It doesn't make it easier to say goodbye, and I try so hard not to cry. I can't help but feel defeated, or even maybe a little cheated.
But how very selfish would I be to hope and pray you could stay with me. So as you laid there, I had to tell you, "It's okay to go."Say "hi" to all our loved ones waiting on the other side.
I know some day you'll be there when I go through The gates of haven.
So Till we meet again forever in my Heart you will be my little bear.
~~~~~~~~~~~~~~~~~
Wake
Saturday March 23, 2019 5:00PM
Sacred Heart Church of the First Peoples
10821 96 St, Edmonton, AB T5H 2J8
Mass of Christian Burial
Sunday March 24, 2019 2:00PM
Sacred Heart Church of the First Peoples
10821 96 St, Edmonton, AB T5H 2J8