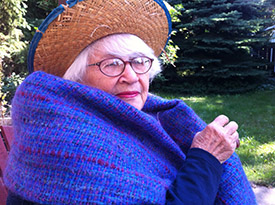 Mary Johanna Sereda
June 10, 1928
-
February 1, 2023
Mary Johanna Sereda, a brilliant, beautiful woman, beloved matriarch and friend, died peacefully on Wednesday, February 1, 2023 in Edmonton. She was 94 years old.
Mary was born in Bellis, Alberta to Anastasia and John Chemerys. She was the fourth of seven children – a sibling to Elizabeth, Peter (who died in infancy), Elias, Paul, Evelyn and Catherine. Mary was the first of her family to attend university. At 16, she boarded the bus to Edmonton with a little suitcase and $15. She intended to study medicine, but was dissuaded – "How can you have children and be a doctor?" – so she chose pharmacy. She won many scholarships and was one of the few women to graduate from the University of Alberta in 1950. She managed the dispensary at the Royal Alexandra Hospital, then busy pharmacies at downtown department stores. She enjoyed serving people, but didn't suffer fools or sexism. "I'd like to speak to the pharmacist." "You're looking at her."
While a young apprentice, facing barriers because she was a woman and Ukrainian- Canadian, she met Joseph Sereda, a handsome, fellow pharmacist. They fell deeply in love and married in 1952. They had three children, David, Brian and Margaret. Later, their marriage became challenging but Mary ensured a positive home for her kids, even when she went back to work full-time when finances were tough. Joe died in 1987, and she retired a few years later, but didn't slow down. She returned to university and studied Philosophy. She enjoyed music of all kinds. Early in married life she wanted art on her walls but couldn't afford paintings. She became a talented painter and excellent photographer herself, and later became a patron of the visual arts in Edmonton and collected works by Western Canadian artists. She loved to cook and the table was never big enough for all her delicious food. She would be at home anywhere, whether a formal dinner party or street market in Uzbekistan. A passionate traveller, she explored over twenty countries on five continents. She found beauty everywhere – in a rose, an aria sung by Pavarotti, wild elephants on safari, fresh raspberries, a prairie sunset. Her favourite place might be her farm, bought in 1970, where she tended her garden, observed the marsh birds, went berry-picking, and visited with relatives and neighbours. She would also visit her ancestors in the churchyard on the hill.
She developed Alzheimers in her 80s and had to leave the home she cherished, but was tenderly cared for by the staff of the Jasper Place Continuing Care Home. Dementia took her memory, her language and finally her body, still a beautiful ember remained. Her dear friend, her late Aunt Anne, marvelled at her boundless energy and talents. "Mary, she does it all!" So often her kids would say, "Mom, slow down. Take a rest!" Her response – "I'll rest when I'm dead – and I plan to be dead a long time!"
May she rest in peace, and may her spirit continue to travel and inspire us.
Mary is survived by her children, David (Stuart Reid), Brian (Cathy Heller) and Margaret Carlson (Terry), her grandchildren Ben Sereda (Megan), Alex Carlson (Devin Richardson), Zach Sereda, Anders Carlson and Sara Sereda, and her great-grandchildren Caleb Cormack-Carlson and Blake Richardson. Also survived by her sister Evelyn Chemerys, many cousins, nieces and nephews, and friends.
A celebration of Mary's life will be held on Friday, March 17 at 1:00 pm followed by a reception at Trinity Funeral Home, 10530-116 Street, Edmonton.
In lieu of flowers, please consider supporting local artists in your community or donating to Alzheimer's research of your choice.