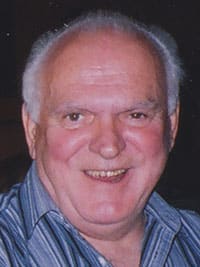 Maurice Joseph Bernard
Dec 29, 1934 - June 7, 2020
Maurice Joseph Bernard passed away peacefully in his sleep on June 7th, 2020 at the age of 85. It is heartbreaking that the coronavirus pandemic kept his family away in his final days and hours. Left behind to mourn him are his children Katherine (Steve Engel), Adele (Bryan Simpson), Colleen, grandsons Nicolas (Karen) and Kyle, granddaughters Amanda and Chelsa, many grandnieces, grandnephews, extended family, and other loving relatives.
Maurice ("Frenchy") was born in Macklin, Saskatchewan on December 29, 1934 and spent his early years on the family farm in Provost, Alberta before moving to the house that his father built on 20th Avenue NW in Calgary. He was one of 8 children born to Auguste and Marie Bernard who emigrated to Canada from France. Maurice worked at the Calgary Herald as a printer until he retired in 1995. He was a simple man, but a man with a big heart and clear values who took his responsibilities seriously. Maurice loved of all things sporting. He was an avid curler in his young adult life and spent many hours at the Calgary Curling Club and other rinks around town. He was always up for adventure and enjoyed travel which led him to develop a passion for photography. This, combined with his enthusiasm for cycling, led him to become very involved with the Alberta Bicycling Association and he became a major contributor to their newsletter in the 80's. A very social person, Maurice loved a good party, music, dancing, laughter, and joking around. In 1955 he fell in love with a pretty young teller in a bank, Eleanor Askew. They married and had 4 children who he cherished. Tragically, in 1964 their son Terry died from leukemia at the age of four, something that touched them deeply and would forever change them. Eleanor predeceased Maurice in 1996. He remarried the beautiful and vivacious Magda Heredy who gave him back his happiness for many years in Kelowna. Maurice moved to Edmonton in 2012 to be closer to his grandchildren. He will always be remembered for his warmth, his generous spirit, and the twinkle in his eye.
Maurice's family is grateful for the care provided to him by the staff during his stay at Extendicare Eau Claire in Edmonton and previously at St Albert Retirement Residence. Maurice's ashes will be interred with Eleanor and Terry in a private family service at a later date. In lieu of flowers, the family respectfully requests donations to the Canadian Cancer Society.