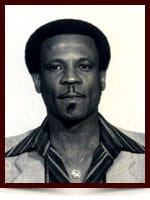 Maurice W. Moffett
Maurice W. Moffett of Edmonton Alberta Canada,  passed away on 28th July 2015 of natural causes.
Maurice W. Moffett was a teacher within the public school system for most of his professional career.  He was the son of Ulric Moffett and Vera Charles. He was the father of Maurice Jr., Annis, Mark, Wayne, Monique, Moneta, Marcel, and Maya.  He was the Grandfather of thirteen grand-kids including Candis, Ibrahem, Mikayla, Chantelle, Willow, William, Jacoie, Zion and Kyah; the brother of Charles Wilson (Guyana), Rockcliffe Wilson (USA), Jennifer Wilson (USA), Hazel Moffett (USA), Constance Moffett (USA) and others.
Maurice was the Uncle of Olutunde Frank, Lyndon Wilson (Sargent Guyana police force), Jenifer Kellman (Guyana), Ohene Moffett, Gordon Wilson, Ronald Wilson and others; the Great Uncle of Santie Frank, Wayne De Heart (DSP Guyana police force) and others; the Cousin of Murley Billey-Pitt, Monty Paul-Constance and others; the Brother in law of Dennis Wilson, Marva Wilson and others.
Memorial Service
Thursday 2PM MDT, 20th August 2015 at 2 pm
Trinity Funeral Home
10530 116 Street, Edmonton, AB, T5H 3L7.