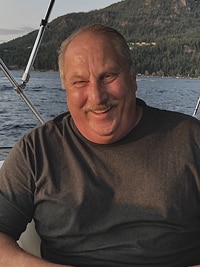 Michael 'Mike' Henry
It is with great sadness that we announce the passing of Michael Henry of Grande Prairie, AB on July, 28th, 2020 after a courageous yet short battle with leukemia.
Mike was born June 21, 1956 in Prince Albert, SK to Eva and Harry Henry and was raised in a family of 10 children. The family moved to Prince George, BC when Mike was young. Mike stayed there until 1974 and then he moved to Brandon, MB with his brother Orville. In 1976, he moved back to Prince George, BC where he was a truck driver for Canada Post. After Canada Post he started working for Parts North. During that time he met Bonnie Zettl and her young daughter Carrie. In June of 1983, they welcomed their daughter Michelle Lee Henry. After several weeks in the hospital she finally made her debut and went straight to the ball field to watch her Dad play softball. Michelle and her Dad would forever share a love of the game from that day forward.
In 1988, Mike got transferred to Grande Prairie, AB where he opened up a new store for Parts North (then called Nomag). On July 29, 1991 Mike got hired at Procter and Gamble to work in the sawmill. He stayed on with them when they became Weyerhaeuser and was employed there for almost 30 years.
In 1999, Mike met Vicki; the love of his life and that is when Vicki's two children Amanda and Matthew became an important part in his life. The family time and special occasions over the years made Mike's heart full. There was no prouder man than when Mike became a Grandpa to Aria, Oliver and Odin. He loved those munchkins so much and they are going to miss their Papa Mike.
Mike loved to golf, fish, play softball, hunt and everything to do with the outdoors. Mike and Vicki loved spending their time camping, fishing and playing games; they especially enjoyed the camping trips with his brother Kelvin, sister in-law Lorna and his nephew Travis and the many Canasta games. Mike also loved music, singing and playing his guitar. One of Mike's passions was cooking; he loved nothing better than chicken Fridays with family, and the special moments with his little sous chef Aria. Mike's ready smile, kindness, loyalty and quiet strength will be missed by all who knew him.
Mike will be lovingly remembered by his wife and best friend Vicki, his daughter Michelle Henry, Amanda (Curtis Sideroff) and Matthew (Kylie Maynard), his grandchildren, Aria and Oliver Maynard and Odin Sideroff. His siblings Ron, Jane, Orville, Harry (Janice), Sharon (Jerry), Evangeline (Brent), Marvin (Kathy) and Kelvin (Lorna) and numerous nieces and nephews.
Mike was predeceased by his mother and father; Eva and Harry Henry and his sister Geraldine Laturnas.
Vicki would like to extend a sincere thank you to her family and friends for all the help and support during Mike's illness.
There will be a celebration of life at a later date.
For those wishing, donations can be made to the Canadian Cancer Society -click on attached link or call 1-888-939-3333.
https://www.cancer.ca/en/donate/?region=on