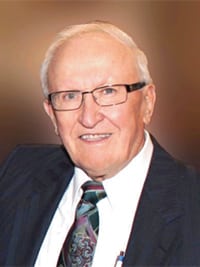 Michael Rokovetsky
August 8, 1932 - December 31, 2020
It is with heavy hearts and much love that we say farewell to Mike Rokovetsky, devoted husband, loving father, beloved Gido, cherished friend, family musician and storyteller. Mike spent his last months in comfort, at home, and passed away surrounded by his family on December 31, 2020. Of course, he chose the biggest party night of the year!
Mike will be lovingly remembered and forever missed by his wife of 57 years, Verna, daughter Sheryl (Joe Madaski), and grandchildren Ben and Mikayla. He will also be dearly missed by sisters-in-law Lynda Shalonik and Pauline (Tom Wolanski - a special brother-in-law), many relatives and friends. Mike is survived by 1 brother and predeceased by parents Maria and Tomofy, 2 sisters and 3 brothers.
Born in Smoky Lake Alberta, Mike grew up on a farm near Abee. He went on to create a successful career in the Diamond Drilling Industry. Starting as a young driller with a strong work ethic and a keen eye for troubleshooting, he easily moved into management positions at various Diamond Drilling Companies across Canada.
Always having pride of ownership, Mike kept a well manicured, weed free lawn, accented with picture perfect trees. The yard was important, but Mike's true love was for his Grandchildren. He always made time for them and took great pleasure entertaining and teaching...which, they loved. He happily attended many concerts and activities and could be heard joyfully ringing the cowbell at the kid's games!
Mike was a lifelong musician, and every occasion was a chance to serenade the crowd with his harmonica. He played the drums with numerous dance bands across Alberta, most recently with the Sparkling Tones. Mike cherished the friendships he made through music and loved entertaining so much that he continued to play on, finally retiring from drumming at age 83! If you listen closely you may just hear his heavenly band!
Mike created a connection with all who knew him through his music, his stories, and his zest for life! He has left his joyous mark on so many and his loving memory will live on in our hearts and in our stories forever.
A Virtual Memorial for Mike will be held on Saturday January 16, 2021 at 2:00pm at;
https://us02web.zoom.us/j/81788791252
Please email sherylm0808@gmail.com with any questions.