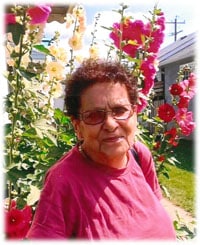 Mildred "Millie" Hagen
It is with great sadness that the family of Mildred "Millie" Hagen shares the news of her passing on October 11, 2020 at the age of 81.
Millie will be forever remembered by her daughters: Geraldine (Myles), Brenda, Marilyn (Delano), Sandra, Lisa & Janice; her siblings: Ernie, Ernest (Marg), Clarence, Delores (Joe), Gloria,  Lorraine (Gord), Elaine & Leon; as well as numerous grandchildren, great grandchildren, relatives and friends.
Millie was predeceased by her parents Mabel and Joseph, her husband, Harold, her partner, Leon; her sisters Margaret & Evelyn, her brothers Leonard, Eddie, Gerald, Ron & Don; her son James; her daughters Laurel, Sherry & Wanda; her granddaughters Nikki & Sonia and numerous relatives.
Millie was a devoted daughter, big-hearted sister, loving wife, beloved mother, caring kokum and loyal friend. She loved to sing, to tell stories, and to play bingo, always chasing her dreams of winning big money-just to give it away. Millie's door was always open. She impacted many lives and leaves each of us with treasured memories.
A memorial service will be held at 11:00 am on Saturday, October 17, 2020 at Trinity Funeral Home, 10530 116 Street, Edmonton. Due to COVID-19 restrictions, attendance will be limited to immediate family members. To view the service live, please visit https://www.youtube.com/watch?v=-Jkr3Z4EmJU&feature=youtu.be