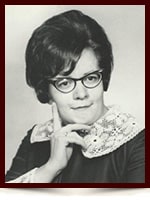 Monique Louise Gamache
Miss Monique Louise Gamache passed away on January 12, 2015 at the age of 68. Monique had a life that brought many health challenges her way. Petite, strong perseverant and uncomplaining she took them head on in an incredible valiant manner. She is so very loved and admired by the many people who crossed her path in life.
Monique was born in Bonnyville, AB. Her amazing parents: Gérard and Yvette(Arbour) Gamache pre-deceased her. Also, her sister Candide(G) Marcoux, baby sister Thérèse. Brothers-in-law: Jacques Lord of Fort Kent, Edouard Vasseur of Fairview, Raymond Bouchard of Lac La Biche, Jean Fournier of Longueil , Québec. Nephew and nieces: George Normand of Bonnyville, Monique(Bouchard)Clews of Edmonton, Raissa Gamache of Bonnyville.
Monique is survived by 10 sisters, 2 brothers, 8 brothers/sisters in law: Eveline Lord, Victoire Vasseur, George Marcoux, Jeannine(Maurice) Normand, Denise(George)Beaudoin, Agnes Bouchard, Laurence Fournier, Yvon(Janice)Gamache, Raymonde(EJ) Ménard, Yvette Gamache(Larry), Marie-Line(Denis) Michaud, and Gérard(Wendy)Gamache, and 50 nephews and nieces, over 120 great and great great nieces and nephews.
Monique's long courageous struggle and battle against Systematic Lupus Erethymatosis, kidney failure, cancer and infections has now ended valiantly. She is so highly respected, admired and loved. Her wit, sense of humour, quietness, strength and determination has brought admiration and respect to her. Monique's family and friends were highly valued by her. She will be missed, she will be remembered.
Our sincere thanks and gratitude go out to the numerous people who gave her prodigious and exceptional care. Among these many awesome doctors, nurses and caregivers; the special staff in ICU, the Dialysis Units at the University of Alberta and the Royal Alexandra Hospitals, who sympathetically cared for her.
Celebration of Life Services
 Saint Joseph Parish in Fort Kent, AB on May 9, 2015 at 11 a.m.
Contact Information: [wpseo_address oneline="1" show_state="0" show_email="0"]