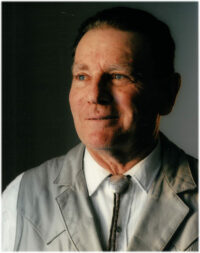 Monte Carl Howerton
February 7, 1934
-
November 24, 2021
It is with heavy hearts that we announce the passing of our beloved, husband, father and grandfather, Monte Carl Howerton. November 24, 2021 he passed away peacefully in the Stony Plain Good Samaritan Care Center.
Monte leaves his loving wife Lorraine, of 62 years, to cherish his memory
Sons; Monte J. Howerton (Trish), Mark A. Howerton, Myron C. Howerton , Myles D. and Gail Howerton,
Grandchildren; Cory Howerton(Megan), Nicholas Howerton, Jessica Griffin , Breanne Howerton, Alex Howerton, Desiree Howerton, Jules Howerton, Ben and Kane Howerton.
He also leaves great grandsons Dylan and Adyn Howerton.
Survived by his siblings; Melvin Howerton, Gene Howerton, Dellana Nyitrai and Darlene Colman
Monte was predeceased by his parents, Maude Alberta Lettington and Manuel J. Howerton, and sisters Dona and Deanna.
He was also predeceased by his paternal grandparents; Manuel Jackson Howerton, Anna Elizabeth Lovell and maternal grandparents; Arthur Robert Lettington and Emily Edith Monk.
In lieu of flowers please make donations to Good Sam Care Center which would be gratefully appreciated.