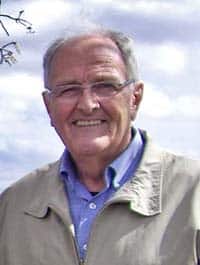 Nick Van Zyderveld
Nick Van Zyderveld of Three Hills Alberta passed away peacefully on Monday April 1 2019 and is now rejoicing in the presence of Jesus his Lord and Savior.
Nick was born in Zaltbommel, the Netherlands on March 29 1932 to Hendrik and Lena (Berkhout) Van Zyderveld, the 4 of 5 children.
Nick emigrated to Canada where he met his beloved wife Tiria Weizenbach in Edmonton Alberta. They were married on July 26 1956 and had seven children. They were married for 38 adventurous years when Tina passed away suddenly on October 31,1994
Besides his dear wife Tina and his parents, Nick was predeceased by his 4 siblings and his lovely granddaughter Meagan Kirstein.
Nick will be greatly missed and lovingly remembered until we meet again, by his children Ron Van Zyderveld, Thelma (Peter) Dubbeldam, Leah (Stefan) Tranelis, Dorothy (Marlon) Kirstein, John (Lori) Van Zyderveld, Paul (Karen) Van Zyderveld, Christine (Rick) DeBruyn, 22 grandchildren and 23 great grandchildren and numerous nieces and nephews.
Memorial services will be held at Victory Church of Three Hills 107 3 Avenue N, Three Hills Alberta at 1:00 pm on Thursday April 11.
A public visitation will be held at Trinity Funeral Home 10530 116 Street, Edmonton Alberta on Friday April 12   from  10:00 AM to 12:00 PM, with an interment immediately  to follow at Northern Lights Cemetery 15203 Campbell Rd NW, Edmonton, AB