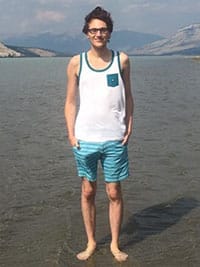 Niko Ricardo Ciofani
With great sadness and heavy hearts on Wednesday July 15, 2020 the sudden passing of Niko Ricardo Ciofani at the age of 24. We say good bye to our son, grandson, cousin and friend. This is a deep loss for all who knew and loved him.
Niko is survived by his parents Ricardo and Hetty along with his loving partner Adam. His grandparents Rocco and Harmien, His Aunts Mieke, Juel, Angela, Joanne, Daphne, His Uncles Henk, Tom, His Cousins Alicia, Maria, Sevannah, Taylor, Rory, Josh, Aaron, Alex, James, Jessica. His 2nd cousins Olivia, Ziyad, Fayrouz, Isabell, Dominic, Aubrey, Isacc, Rochelle, Weston, Joshua, Evelyn.
He is pre-deceased by his Grandfather Teunis and his Grandmother Margaret
Service will be at 10am Thursday the 23rd at Trinity funeral home and because of COVID restrictions only close family can attend. There will be a reception to follow for all that wish to attend beginning at noon and will be an outdoor event with weather permitting at:
5407 Fulton Rd. Edmonton, Alberta T6A-3T1
If you wish to donate to a charity the family asked that it be YESS
(Youth Empowerment and Support Services) and/or Mental Health