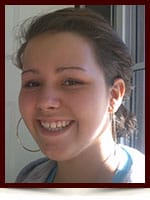 Ocean Pearl Kara
Ocean Pearl Kara (October 10, 1997 - November 4, 2014)
At the tender age of 17 Ocean Pearl Kara, also known as Oceana, joined her sister Jessica Miracle, who died at birth August 14, 1996.
Ocean touched the lives of many including her mother, Kim Wendy Kara, and numerous friends: young and old. She once said, "It takes a tornado to make a rainbow for me." This is the theme for her celebration of life, held at Southminster-Steinhauer United Church located at 10740 19 Ave NW, Edmonton, AB T6J 6W9 on
Saturday November 15, 2014 at 2:00 pm
. This is the same location where she and Janelle Hillestad held their Dessert Silent Auction to raise funds to build a house for a family in Mexico on March 9, 2012. (Please see their blog at
www.dontjustpopulate.blogspot.com
.) In lieu of flowers donations will be used to create a Hero Holiday ~ Live Different fund in her name. Contact the family to make donations.