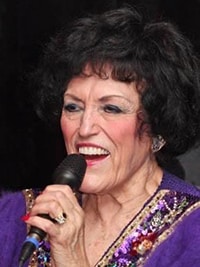 Rollanda Marie Lee
It is with heavy hearts that we announce the passing of
Rollanda Marie Lee on October 27, 2020.
Our beloved
sister Rollanda had been admitted to the U of A Hospital
on August 22nd due to complications from previous falls,
dramatic weight loss, multiple fractures from Osteoporosis
& advanced Parkinson's. After five weeks she was moved
to the Edmonton General Long term care and was lovingly
cared for there from September 28 to October 27.
With
her brother & sister by her side that last day, she was finally
freed from the pain, able to find peace and undoubtedly
ready to Sing with the Angels.
Left to cherish their memories of a wonderful sister, devoted
Aunt & cousin, lifelong friend and Jazz Legend are:
Sister Adrienne Hébert (Vancouver), Brother Bernie Hébert,
Aunt Antoinette Cyre, Nephew Gerry Hébert & family, niece
Danielle Hébert & son Dane, Nephew Chris Hébert , nephew
Al Hébert & nieces; Nicole Royer, Michelle Hébert and
Monique Hébert plus numerous friends and musicians.
She will also be sadly missed by her band of 25 years, The
Canadian Hot Stars Jazz Band.
The family wishes to extend
gratitude to the Edmonton General Long Term Facility, unit
4C. for their tender & personalized care for Rollanda as she
fought advanced Parkinson's.
In lieu of flowers, donations
may be made to the Parkinson's Society of ALBERTA.
A private service will be held on Friday November 6, 2020 at St. Joseph's Basilica at 2:00pm.