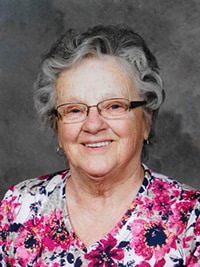 Rosemary Elizabeth McEwen (Hay)
It is with great sadness that we announce the passing of Rosemary Elizabeth McEwen (Hay). After hospitalization at the Cross Cancer Institute in Edmonton, Rosemary joined her Lord on May 31, 2018, at the age of 81 years.
Rosemary was born on October 12, 1936 in Belleville, Ontario and in 1957 was married to Rosslynn Fraser McEwen at the Armed Force base in Trenton, Ontario. As a military wife, she lived in a number of locations throughout Canada. Once her children were raised, she moved back to Ontario in 1986 and then returned to Edmonton in May 2010 to be near her children and their families.
Her many talents included sewing and crafting where she found great pleasure in creating and gifting items she had made. Her small gardens brought her joy and she was awarded "Edmonton Front Yard in Bloom" recognition.
Rosemary is pre-deceased by her husband, Rosslyn Fraser McEwen; her parents: Elizabeth Emily and Donald Raymond Hay; and her sister, Alice Ross.
She is survived by her siblings, Leo Hay, Donna Benn, Donald Hay, Angeline Reid and Bernadette Mitchell, children: Elizabeth (Bob) Acker, Kathleen (Al) McMurray, Raymond (Leticia) McEwen, Douglas (Earleen) McEwen and Angeline McEwen Coates, grandchildren: Sherri-Dawn (Mike) Annett, Amy (Andy) Mottershead, Rob (Kirsten) Acker, Ian (Meghann) McMurray, Katrina (Brayden) Goodyear, TJ Acker, Tess Coates, Matthew Acker, Kris McEwen, Samantha Coates, JD McEwen, David McEwen and Hayley McEwen, great-grandchildren: Josh Annett, Lelan Coates, Shaelyn Annett, Lucas Ostermayer, Emily Calliou, Kayde Duda, Kyron Duda, Robbie Acker, Grace Mottershead, Charlie Acker, Connor Mottershead, Freya Mottershead, Liliana Godin.
She also leaves behind a great number of loving relatives, friends and her church family at St. Alphonsus Catholic Church.
In lieu of flowers, donations may be made to one of the many charities Rosemary supported, including: the Children's Wish Foundation, the Canadian National Institute for the Blind (CNIB), the Alberta Cancer Foundation, The Diabetes Association and the Heart and Stroke Foundation.
Celebration of Life
Monday June 11, 2018 10:00AM
Trinity Funeral Funeral Home Chapel
10530-116 Street, Edmonton, AB
Funeral Mass
Monday June 11, 2018 2:00PM
St. Alphonsus Church
11828-85 Street, Edmonton, AB
At a later date Rosemary will return home to Belleville, Ontario to be laid to rest with her parents in St. James Cemetery.