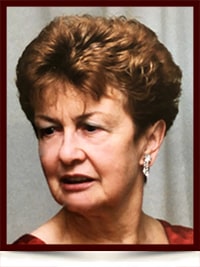 Ruth Amy New (Gillis)
December 11, 1928 – April 9, 2017
Ruth passed away peacefully on Sunday morning, April 9th, surrounded by her loving daughters Cathy Jones and Dianne New. She was predeceased by husband John New and daughter Barbara Lindberg, and is survived by grandchildren Valerie and Erin Jones; Kelsey, Chris, and Justin Lindberg; Robyn and Maggie McPherson; and six great-grandchildren.
Born in Edmonton, Ruth Amy Gillis was the last of eight children born to Dorothy Rose (Milner) and John William Gillis. Her natural musical talent was recognized very young and was nurtured by Edmonton's finest music teachers. By the time she was a teenager she was recognized as a soprano soloist of immense potential and shone in festivals and recitals.
After finishing at Victoria High School Ruth received a scholarship to study opera at the Royal Conservatory of Music in Toronto. In addition to her studies she performed with the Opera Festival of Toronto, Buffalo Philharmonic Orchestra, and in recital with Jon Vickers.
Ruth returned to Edmonton to marry John New whom she had met through their shared love of music and singing in the All Saints' Cathedral choir. She was quickly embraced by Edmonton audiences and over the years would be a featured soloist with the Edmonton Symphony Orchestra, Edmonton Civic Opera, Edmonton Opera, Edmonton Pops Orchestra, Edmonton Mendelssohn Choir, Victoria Gilbert & Sullivan Operatic Society, Richard Eaton Singers and more.
She was much sought after as a vocal teacher, and a soloist for weddings, funerals, and in many of Edmonton's churches where husband John was often the choir director. Ruth would also become a mainstay in Edmonton choirs Da Camera and the Richard Eaton Singers.
In addition to her singing career, Ruth was a wonderful mother to her three daughters; a fun-loving favourite aunt; a doting grandmother; the life of any party; an impressive seamstress and needlepoint enthusiast; and an avid gardener. She supported many charities and was a longtime volunteer with the Edmonton Opera Guild.
Even in the latter stages of dementia Ruth could still fill a room with her spirit and joy. The family would like to gratefully thank the Good Samaritan Society and the staff at Wedman House and the Gerald Zetter Centre for their loving care.