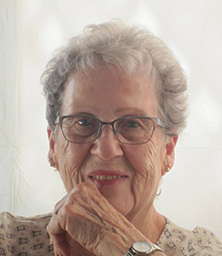 Sally Majcher
June 2, 1938
-
August 10, 2021
It is with profound sadness that the family of Sally Majcher announce the passing of their beloved mother, grandma, auntie, and friend.
She was born the 10th of 11 children to Pelegia and Phillip Luniw on June 2, 1938 in Rangeton, Alberta.
Life on the farm was not easy, but many of the childhood memories recounted by Sally showed that despite lean times and hard work required by all of them, they had a rich childhood with adventures and excitement.  She referred to their house as Grand Central Station, in addition to their large family there was always many relatives and friends visiting on a regular basis.
In 1954 a young man named Ted caught her eye.  They became interested with each other, and then she contracted Rheumatic fever. After spending three months confined to bed she decided not to return to school and a serious courtship began.  On February 19, 1955 they married and moved into a small house in Greencourt.  Ted worked on the CNR welding gangs and was on the road much of the time, that summer Sally stayed on the family farm helping her Mother. The following winter they lived in a CN bunkhouse and the next summer she went on the road with him staying in a tent and riding in a work train boxcar from job to job.  In 1956 they were able to purchase a lot in Greencourt and build a two room house with power but no water.
Their first child Constance was born in 1958, a son Trevor to follow in 1961. They moved to Edmonton in 1961 and tragically Trevor passed away September 1962 from leukemia.
In 1964 Ted was permanently stationed in Edmonton. That year they purchased their home in Jasper Place where they lived until their final days.
A second daughter Bernice was born in 1964 and youngest daughter Rachel was born in 1971.
She loved being a grandma, and adored her two grandchildren Kimberly and Cameron very much.
She remained at home tending the family and home until 1982 when she decided to enter the work force.  She started with the Edmonton Public School Board and a proud member of CUPE Local 474 as a custodian, where she enjoyed the work and social interactions until her retirement in 2004.
Sally enjoyed growing beautiful flowers, cooking incredible family meals, dancing, painting things, playing cards but mostly many, many, years of camping, riding the ATV's, fishing,  picking blueberries and cans.  They especially enjoyed the trips spent with family and the friends they made over the years.
On December 1, 2020 she lost her soul mate Ted and was truly heartbroken.
She was very kind, compassionate and cared about the less fortunate.
We will all miss her incredibly.  The lord took her hand and led her to peace.
Always loved, never forgotten.
In lieu of flowers please feel free to donate to the "The Hope Mission" or any other charity that provides help to the less fortunate.