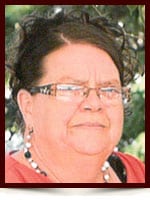 Sandra Lee Richardson
On February 28, Sandra Lee Richardson of Edmonton passed away peacefully at the age of 55. Sandra is survived by husband Joao Dacosta, son Ross (Tanya) L'Heureux, step-children; John, Mark, Raquel and Phillip DaCosta, 2 grandsons; Rylan and Brodie L'Heureux, father Ross (Bertha) Richardson, Momma Maria Tavares, brothers; Tom (Karen) Richardson and Doug Richardson, sisters; Heather Roberts and Bean (Rob) Nicol, as well as many other neices and nephews as well as extended family and friends.
Sandra was predeceased by her Mother Marilyn Richardson and Brother in Law Hal Roberts.
Celebration of Life
1:00 PM Thursday March 5, 2015
Central Memorial Chapel
10530 116 Street Edmonton.
Memorial Donations
Cross Cancer Institute
11560 University Avenue
Edmonton, Alberta, T6G 1Z2
Contact Information: [wpseo_address oneline="1" show_state="0" show_email="0"]