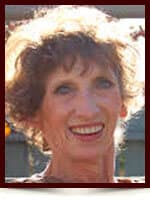 Sherian Ann Morgan
Sherian Ann Morgan passed away in the early hours of August 23, 2017 at St. Joseph's Auxiliary Hospital in Edmonton at the age of 69.
She fought a courageous, but thankfully brief battle with cancer.
Sherian was born on April 27, 1948 to Wesley and Anne Miller; the eldest of three daughters. Sherian's unparalelled work ethic began early in life while still on the farm in Prince Albert and her fortitude was severely tested after the death of her father in her early teens. That work ethic was clearly demonstrated in all aspects of her life as a tireless mother, a fabulous life partner, and a caring friend.
Sherian worked in the restaurant industry for over 50 years and spent the last 13 years at the Terra Losa Sawmill Restaurant in West Edmonton. She couldn't go anywhere without
running into a customer who always had a kind word for her.
Sherian is survived by her partner Neill O'Shaughnessy; her three daughters Pamela Morgan, Annette Rawlusyk, and Susan Preece; her sons-in-law Sean Rawlusyk and Kevin Preece. She is also survived by her Uncle Walter Chomyk, her sisters Barbara Hildebrandt and her daughters Melanie and Carrie, as well as her youngest sister Carol Bueckert, her partner Tony and her sons Kim and Quinton. Sherian will be keeping a mindful watch from Heaven over her grandchildren, Danyal, Shelby, and Carson, and great granddaughter Malyssa. She leaves behind countless other family and friends who she loved dearly.
We find comfort in knowing that Sherian will be laid to rest alongside her father and mother in Prince Albert Saskatchewan.
We know Sherian would want us to thank all the family, friends, neighbours, work associates, hospital and funeral staff for their heartfelt wishes and efforts.
At Sherian's request, a funeral service will not be held, but we hope to organize an informal gathering to thank all of you for your prayers and kind words.
If you are so inclined donations can be made in her honour to the Canadian Cancer Society.