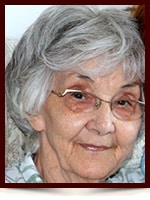 Shirley Imeson
 On Tuesday, January 15, 2013 Shirley Imeson passed away peacefully surrounded by her family.
She will be remembered by her children Garth (Cathy Tidey) of Calgary, Rick (Debbie Bergeson) of Springbank and Linda (Basil) Zurawell ofArdrossan. She will always be in the hearts of her grandchildren who were her pride and joy, Dylan and Miles Zurawell and Sarah Imeson
Shirley was the only child of Cecil and Marguerite Ells and was raised on the farm near Rowley, Alberta. She left the farm to attend high school and later the UofA where she graduated as an RN. While nursing in Provost, she met her future husband Robert (Bob). Bob and Shirley settled in Vegreville where they raised their family and were active members in the community. They enjoyed life together in Vegreville until Bob's passing in1982. Shirley remained in Vegreville where she continued to put her nursing skills to use as a volunteer and ambulance attendant. She enjoyed helping others, activities at the Legion, singing in the United Church choir and especially time at Lac Bellevue. Shirley later moved to Rosedale Estates in Edmonton to be closer to family.
Shirley dedicated her life to her family. She taught us that love can be expressed in many ways and that family comes first. Her strength and dignity have been and will continue to be an inspiration.
We would like to thank the staff of Rosedale Estates and Norwood CHOICE program for their compassionate care and support. Shirley's quality of life in her final years was enhanced immensely by their care.
Shirley will be laid to rest beside her husband, Bob at the Riverside Cemetery in Vegreville. A family gathering to honour and remember her will be held at a later date.
In lieu of other tributes, memorial donations to the Canadian Cancer Society would be gratefully accepted.