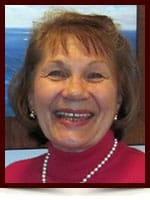 Sonia Jane Knapczyk
Knapczyk, Sonia Jane
January 2, 1944 - March 27, 2015
 It is with great sadness that we announce the passing of Sonia Jane Knapczyk in Edmonton, AB at the age of 71. She is survived by her son, Clint Knapczyk (Jo-Anne), grandson Tyson, loving cousins and nephews. She was predeceased by her parents, Peter and Annie Karpinski; brother, Stanley Knapczyk (Linda). Sonia was raised and spent most of her life in Edmonton, AB before moving to Chilliwack B.C. in 2004. Sonia loved nature, gardening and flowers, music, and painting. Most important, she loved and cherished her family. We will miss you always.
Memorial Service
Monday, April 6, 2015, 11:00AM
Royal Canadian Legion Kingsway Branch
14339 50th Street, Edmonton, AB.
Following the service, please join the family for a luncheon reception.
In lieu of flowers, please donate to the Alberta Cancer Foundation.
Contact Information: [wpseo_address oneline="1" show_state="0" show_email="0"]