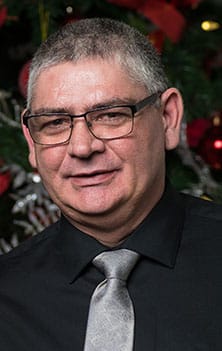 Stephen Eric Brown
It is with great sorrow that the loved ones of Stephen Eric Brown announce his sudden passing on February 19, 2019, in Edmonton, Alberta, at the age of 54. Stephen was born in Saint John, New Brunswick on Sept 20, 1964 to parents Patrick and Shirley (Vienot) Brown, who predeceased him.
Stephen lived in Edmonton with his love, and common law wife, Victoria Britain. Anyone who knew him could see that they were perfect together and how much he loved her. He is also survived by his five sisters including Lorna, Karen, Linda, and Ann Marie, and also by Cathy ("Cat") whom he raised as cherished as his daughter.
Stephen loved people. To him today's stranger was tomorrow's friend and next week's family. If you were a friend of someone he cared about you were already important to him, and would be introduced by him as "Family". If he thought highly of someone he would say, "He's good people" or "She's good people." He loved family and cherished his extended family as well, being especially fond of his Aunt Valerie and her daughter Susie, with whom he shared the catch-phrase "You get in, you get out, nobody gets hurt" inspired by an SNL skit. And he had a special place in his heart for his aunt Connie, and her oatmeal cookies. He would do anything for the people he cared about with a strong commitment to one's duty to family. As a teen he painted his aunt Connie's several-story house (two in the front, three on one side and the back – it sat on a hill) single-handedly from a ladder for free (except for the cookies, no doubt). He built a 15 foot square deck in his sister's back yard so her family would have a level surface to put a swimming pool without having to dig up their yard, and never asked anything in return.
His early years were spent growing up in Saint John with a love of mechanics and cars, developing a skill that would serve him well as a hobbyist who worked at restoring his dream car, the Chevelle, and also as an invaluable employee in that field in various jobs throughout his adult life, and as a very handy person to have as a friend, brother or Dad. But Stephen was not limited to one field. He learned what he needed to, to find employment. He would say, "I always land on my feet."  He spent some years siding houses, and came up with the perfect name for what became his teenage friends' business: Straightline Siding. He also spent many years in the construction field both as a contractor and installing windows. Many people compared him to Mike Holmes due to his attention to quality. He always left satisfied customers in his wake and corrected the mistakes of those who came before. Once when a salesman had led a customer to believe that the window and breakfast nook she wanted to have in her kitchen was not doable, he said, "Well, the salesman doesn't put them in," and he gave the customer exactly what she wanted.
Stephen wanted to spread his wings and see the world, and as a young adult he took a job with Kent Lines on an oil rig. He again applied himself, sailed about North America and began earning various "tickets" which in turn helped to land him other sea-faring jobs throughout his life. He had many adventures around the world, with the tales of which he regaled family and friends. He had a talent for story-telling, and could make an evening that stretched into the wee hours seem much too short.
Stephen's positivity emanated from him to all who were lucky enough to know him. Inspired by a character in one of his favourite movies, "Fast Times At Ridgemont High," he made you feel like wherever he was, that was the place to be. Stephen seemed to have figured out what was really important in life. His ability to forgive and move on is remembered by those closest to him. He didn't sweat the small stuff and made everyone around him feel comfortable. He had perfected the art of going with the flow. He had a fun-loving sense of humour, lived life to the fullest and loved the outdoors. And he was never jealous of the good fortune of others but was truly happy for them.
He cared about people and gave of his time and expertise whenever he was needed. He was the friend you could call when you were stranded or in a tight spot, any time of the night or day, and he would be there to bail you out. He went out of his way to help people with car trouble, or even to help them make a good car purchase, giving the benefit of his knowledge and experience so they didn't get tricked into buying a lemon. If he saw complete strangers looking under the hood of a car he would go up to them and say, "I'm a mechanic, do you need help?" Stephen was good people.
A gentle giant, as his Victoria would call him, Stephen was known for his generosity of spirit. If he had extra money he gave freely to those in need. He saw the best in people and didn't judge, and welcomed the opportunity to offer his wisdom and guidance to teens of broken families, treating them as his family. He mentored Adam, a friend of his then teenage daughter, in the siding trade, and taught him everything he knew about how to do it right. He approached life with the attitude that you can achieve anything and instilled that in the youth around him. Adam now has his own siding business. Stephen was an inspiration to many.
Stephen's favourite cartoon character was Wile E. Coyote. Why? Because he never gave up. Case in point, as told by his oldest sister:
Like the time he and his friend Patty were playing with a basketball in the yard, seeing who could throw it the highest.  I was in my bedroom on the second floor, lying on the bed reading, and from my angle all I could see was a basketball flying back and forth, not what was going on at ground level. Back and forth the ball went, higher and higher -  till it finally got stuck in the highest branches of the old Balm of Gilead tree.  There was a very short pause. Then a hockey stick started flying through the air, higher and higher, in an attempt by Stephen to knock the ball out of the tree. The hockey stick went just as high as the ball, but unfortunately not near it, so it did not knock the ball out of the tree. It did, however, get stuck in the tree. I chuckled. There was another brief pause. Then I saw Mom's broom flying through the air. It joined the ball and the hockey stick in the tree fairly quickly. By this time I was in fits of giggles. There was a slightly longer pause. Then I saw the top of Dad's longest ladder weaving unsteadily into the picture and I just lost it. But Stephen had finally found a way. :)
When Stephen played you a song from his extensive music collection, he didn't just play you a song, he told you the story behind the song. He embraced the music, and had a passion for the history which was infectious and gave you a whole new appreciation for the music.
Few may have known the depths of his will and strength of spirit. He conquered addiction being 25 years sober as of Dec 5 and he quit smoking when Barak Obama became president in 2008.
Stephen had a unique faith and spirituality. He would say, "Jesus is my wingman." He truly believed that, as the movie "The Sound Of Music" taught, "When God closes a door, somewhere he opens a window." He always looked for that open window and never gave up.
A Celebration of Stephen's life, in the spirit of the "Irish Wake," will be held at a later date yet to be determined. For those who would like to be notified and attend, please email linda.doucette@shaw.ca so that we may get a count of guests to expect. In lieu of flowers please make a donation in his name to Big Brothers Big Sisters, an organization that inspires youth as Stephen did. Thank you.