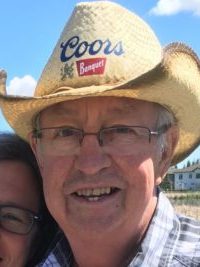 Theophilus Ronald Poots
Ron Poots of Edmonton passed away peacefully on April 23, 2019 with his wife and children by his side.
He was born in Belfast to Ernie and Renee and emigrated to Canada in 1969, where he met and married Jean.
Initially a teacher at Eastwood and Wagner, Ron became Assistant Principal at Avonmore, then the last Principal at McKay Avenue followed by Sherbrooke, Riverbend, Ellerslie and Dan Knott.
He loved life in Canada, raising his family on an acreage, hunting and fishing with long-time friends, entertaining as a folk singer and creating art such as paintings and crafts. He and Jean also enjoyed traveling far and wide. A full life.
Mourned by his wife Jean, children Trina (Eric), Tara Harrington (Dwayne), and Stephen (Janna) as well as grandchildren Makenzie, Jake, Georgia, Katie and Elliott. He also leaves his brothers Vaughan, Alan and Medwin and families in the UK and Jean's brothers Cliff (Diane) and Bob (Shelley) Andres of Flin Flon, and sisters Joan Kabitz (Gerry) of Edmonton, and Joyce Kotz (Dave) of Yorkton.
Memorial Service
11:00AM Tuesday April 30, 2019
Glory Lutheran Church
22577 Highway 16, Sherwood Park, AB
Memorial Donations
Glory Lutheran Church or the Cross Cancer Institute