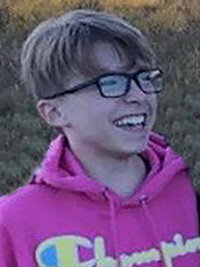 Zachary Alexander Da Silva
Zachary Alexander Da Silva of Morinville Alberta passed away tragically on Saturday, October 3, 2020 at the young age of 14.
Zachary was born September 7, 2006 in Wetaskiwin, Alberta.  He will be sadly missed by his parents Alexander and Maryann Da Silva and his sister Madison, as well as his grandfather, grandmother, aunts, uncles, cousins, extended family and numerous friends.
Zachary enjoyed playing soccer, hockey, badminton, air hockey, ping-pong, hanging out with his friends and playing video games.  He will always be remembered for his kind and generous spirit and his great sense of humour.  His smile was radiant and his laughter was contagious.
Zachary was preceded by his maternal grandfather and paternal grandmother.
Due to current COVID restrictions, attendance is limited to immediate family and invited guests.
To view the Mass of Christian Burial via live stream, please click on this link: https://youtu.be/Jll6Bz01SkM
To view the Interment Service via live stream, please click on this link: https://youtu.be/kIMze1b1ab0
Prayers

6:00PM Tuesday October 13, 2020
St. Jean Baptiste Parish
10034 100 Ave, Morinville, AB
Mass of Christian Burial
10:00AM Wednesday October 14, 2020
St. Jean Baptiste Parish
10034 100 Ave, Morinville, AB
Interment

St. Jean Baptiste Catholic Cemetery
Memorial Donations
Stollery Children's Hospital
8440 112 St NW, Edmonton, AB T6G 2B7