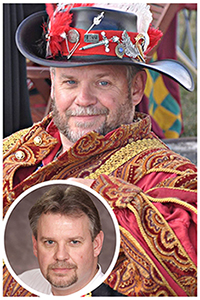 Alan Michael Baldwin
May 20, 1964
-
October 30, 2022
Alan Michael Baldwin was born in Regina, SK on May 20, 1964 and passed away peacefully at his home on October 30, 2022.
Alan was a man of many interests. His main ones included flying, motorcycles, and medieval re-enactment. He was also a scholar, a teacher, and had many talents that he shared freely with anyone. His passion for life and the people in his world, inspired many around him. 
Alan is survived by his loving wife, Gail; his birth mom, Joyce; mom, Donna; sister, Leanne Parent (Greg); nephew, Dalton Parent (Tamara); niece, Sydney Parent; aunt, Donna May; in-laws, Brent Barrett (Sharon), Sheron Hughes (Gordon), Brenda Lawrence-Ricard, Debbie Barrett, Kathy Miles (Barry) and numerous nieces, nephews, and foster daughters. Alan will be dearly missed by his many family and friends both near and far.
Alan was predeceased by his Dad Robert on October 7, 2022.
Please raise a glass in his honour. 
In lieu of flowers or tributes, please consider donating to Valor Place- Military Family Support House (https://donate-can.keela.co/general-donation3)
A celebration of his life will take place next year (2023) at his property known as RedField Crossing.