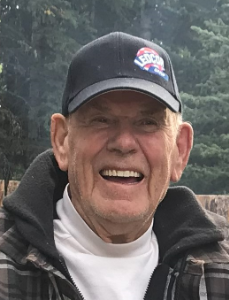 Albert Fredrick McRae
August 29, 1939
-
October 5, 2023
In Loving Memory of Al
Albert McRae, a beloved husband, devoted father and grandfather, and friend to many, passed away on October 5, 2023 at the age of 84. He left this world with cherished memories, an abundance of friends, and a heart filled with love for his children and wife.
Al is survived by his wife Paulette, his children, Shawn (Colleen), Lisa (Rod), Rodney (Karen). His grandchildren Randi (Justin), Marissa, Marley, Nathan and Evan and his great granddaughter Olive.
Al was a vibrant soul who touched the lives of countless people with his warm smile and unwavering kindness. He was a pillar of strength and a source of joy for those fortunate enough to know him.
Al's marriage to Paulette was a testament to their enduring love and commitment. Together, they shared 61 years of love, support, and adventures. Their love was a shining example of a lifetime of dedication and affection.
Al had a profound love for his children, Shawn, Lisa, and Rodney, whom He raised with boundless love and unwavering support. He was a dedicated and loving parent, always putting his children's happiness and well-being first.
One of Al's greatest passions was the great outdoors. He had a deep appreciation for nature and found solace in the beauty of the world around him. Al was an avid hiker, who explored trails and mountains, finding a sense of peace and adventure in every step he took. His daily walks were not just a form of exercise but a way to connect with nature and clear his mind.
Al had a knack for turning any moment into a fun-filled adventure. He loved playing bocce ball, bowling, golfing, and playing games with friends. His laughter was contagious, and he brought joy and camaraderie to every gathering. His zest for life was infectious, and he made lasting memories with countless friends who will forever cherish the moments shared with him.
Al was not only a dedicated family person but also a skilled owner operator who took pride in his work for many years.
Al's work as a truck driver was a testament to his strong work ethic and dedication to providing for his family. He navigated the open road with precision and skill. Al found fulfillment in this challenging and adventurous career. He loved driving and the sense of freedom that came with it. The hum of the engine, and the ever-changing scenery brought him joy. Truck driving was not just a profession but a true calling.
Though Al is no longer with us, his spirit and legacy will endure, reminding us of the importance of love, friendship, a deep appreciation for the beauty in nature, and the fulfillment found in hard work and play.
Al is predeceased by his parents Grace and James, his brothers Jim and Ken, and his sisters Joyce and Irene.
A private celebration of Al's life will be held In Winnipeg, Calgary and Arizona.
As we say our final goodbye, let us remember Al's laughter, kindness, and the love he had for his children, the great outdoors, and the joy of shared moments with friends and family. In Al's honor, may we all strive to live life to the fullest, just as he did, and to cherish the timeless love shared with Paulette.