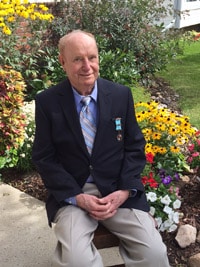 Albert Walker Given
The " Boy from the Wapiti " goes home……..
Albert Walker Given was born in Debolt, AB in 1929. One of six children to George and Elizabeth Given from north of Harper Creek.  In his early days as a 12 year old, if not working the farm for Dad, or at school, he was contract threshing for local farmers in Crooked Creek, Sturgeon Lake, Tee Pee Creek,  Bezanson, and others north of the Little Smoky. Later, after working at Bird's Store in Grande Prairie, he went to work for Bill Henderson who owned Union Tractor & Equipment Co. in Calgary, the local Caterpillar Tractor dealer in the area. After Ab had helped open up the north, Peace River, Grimshaw, Dawson Creek and the NWT among other areas, he worked for Bill's son-in-law Jack Baron, after Bill's untimely death in 1954.
After helping move  UTL's head office from Calgary to Edmonton, out of town on the Calgary Trail in 1956, he and partner Doug Agate acquired the company from Jack in 1967. Ab was an early resident of Campbelltown (Sherwood Park) and an early member of the Sherwood Park United Church, and the Sherwood Park Community League. Receiving his 60 year pin from The Peace River Masonic Lodge #89 five years ago, was a very proud moment following his Dad's footsteps.
He and Gail retired to San Diego in 1981 and enjoyed living out at San Vicente with many friends, and often visitors from the north. 
He is survived by his wife of 63 years Gail, his son and daughter-in-law Bob and Jeanie of Knoxville, TN and predeceased by his brothers and sisters, Bob, Lil, Georgie, Ed and Wes, and also daughter Lynne of Red Deer in 2014. 
Ab will be sorely missed by family and friends, and a donation to The Winnifred Stewart School in Edmonton in Lynne's name would be most appreciated. A celebration of life may be scheduled in the future.