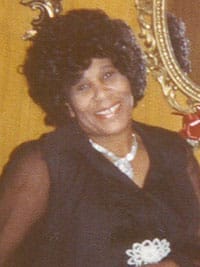 Alceine Leota Johnston
JUNE 26, 1930 – MAY 14, 2019
It is with heavy hearts that we announce the passing of our mother, Alceine (Bobby) Johnston at the age of 88.
Born and raised in Maidstone, SK, she moved to Vancouver, BC, where she fell in love and married Garnet Johnston. Alceine and her husband would eventually move to Winnipeg, MB to raise their family and remained there most of her life. After her husband passed, Alceine resided in Edmonton for the last 15 years of her life to be closer to family. Alceine will forever be remembered for her fiery personality and leaving a strong legacy that included a "family is everything" philosophy. It is this undying love and commitment of family that she passed on to all of her children.
Left to cherish her memory, Alceine leaves behind her children Ken, Wanda (Evan), Daryle and Sandra, her brother Elwood (Sparky), her grandchildren Marsha, Wanda, Sean, Patrick, Sandra, Ashley, Nathan, Alvin, Michael and Holly as well as numerous great grandchildren, great-great grandchildren, extended family and friends.
Alceine is predeceased by her husband Garnet Sr., her sons Alvin, Garnet Jr., Kerry and Dwight and her siblings Alda, Shank and Lorraine.
A very special thank you to our dear friend Teresa Eschuk who was like a daughter to our mother. Teresa, mom loved you very much and we cannot thank you enough for the companionship and love you extended to her over the years.
The family also wishes to express their thanks to Dr. Slabu, his team and the staff at the Misericordia Hospital in Edmonton for the empathy and compassion during our mother's care.
Respecting our mother's request, no formal funeral service will be held.