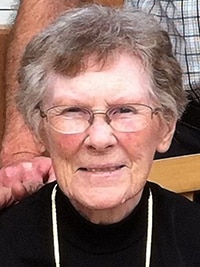 Alice Aileen Ayles
Alice Aileen Ayles has passed away at the age of 91.
Aileen leaves to mourn her two sons: Jeff (Tricia) and Dean (Bev); daughter Carole (Lane) Nordell as well as five grandchildren: Carla (Stephen), Miriam (Sean), Christopher (Danielle), Jennifer (Andrew) and Daria (Max). Aileen was predeceased by her husband Charles "Chuck" Ayles and her parents Vivian and Mary Brown.
Aileen was an enthusiastic partner to Chuck in their adventures in Nigeria and Zambia bringing advanced education through the Canadian government to these developing nations. She was an intellectually curious and well-read retired nurse and a great mom and grandmother who could answer just about any question about world history. She will be greatly missed.
Due to pandemic restrictions a service will not be held. Donations in lieu of flowers can be made to a charity of your choice.