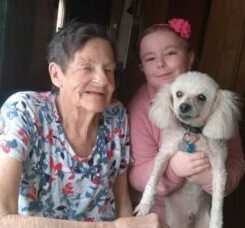 Alice Jean Jack
Passed Away
October 7, 2021
Alice was a super caring, understanding, listening mother of four children: Donna, Charles, David and Daniel.  She is survived by three grandchildren (Gerald, Allan and Jennifer).
She has eight great-grandchildren Maxine, Alana, Takayah, Ashton Teeguan Annika and (Emmett predeceased) Talia as well as numerous nephews, nieces, Grand nephews, nieces, and even Great Grand nephews and nieces, there are cousins in Ontario and elsewhere.
Mom was predeceased by Shirely, Betty, Bill, half brother Keith.
Mom loved to crochet, and was working on a couple of afghans to boot.  She enjoyed her flowers and "enjoyed the rasperberrys" ( she just didn't like all of the extra work the raspberries provided her).  You could find Mom in her living room talking with a number of her friends (yes on the phone).  Yup she was a really great Mom, going to miss taking my Dog Snoopy over to her everyday so he could play with his brother Mojo.  Mom know you are loved and were loved, RIP Mom, glad to know you are not in any more pain.