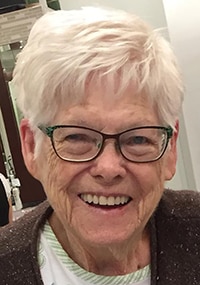 Alvera Jane Scowen (nee Hadley)
June 2, 1929 – September 11, 2019
With great sadness, we said goodbye to Vera Scowen on September 11, 2019. Vera was born and lived all her 90 years in Edmonton.
A devoted wife and mother, Vera also loved singing, gardening, baking, reading, going for walks, and visiting family and friends. Vera was predeceased by her husband Linnard (2007) and son David (1984).
Vera is survived by her children: Pam (Richard Kellett), Liz Davison (Terry), Keith, and Anthony; 2 grandsons, Paul Davison (Blaine) and Andrew Davison; 1 great granddaughter Reese Davison; a large extended family; and Donna Cameron de Jimenez (Vera's "other daughter") and her family.
Vera was one of nine children and is also survived by her last remaining sibling, Malcolm Hadley of New Westminster, B.C.
We extend our sincere thanks to the staff of the Royal Alexandra Hospital and Norwood Hospice. In lieu of flowers please consider a donation to the CapitalCare Norwood Palliative Hospice or the Alberta Cancer Foundation.