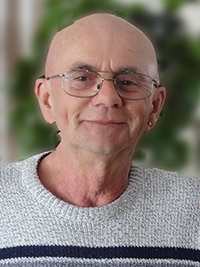 At his home on Wednesday December 6/2018, Andrew Jacques of Edmonton, Alberta passed away at the age of 73. Predeceased by his parents Victor Jacques and Henriette Beaudet. Loving husband of 45 years to Heather Jacques. Proud and loving father of Karen de Orla (Chris), Sandra Phaneuf (Jean Lafantaisie) and Rodney Phaneuf (Deanna), Denise Jacques, Somebody1 Jacques and Somebody2 Jacques. Brother to Monique Jacques, Ginette Jacques, and Nicole St. Pierre. Grandfather to David de Orla (Tyrel Mann), Kevin de Orla, Maxime Lafantaisie, Nicholas Lafantaisie , Patricia Lafantaisie, Vicky Phaneuf, Cindy Phaneuf, Victor Jacques. Step-grandfather to Amber Springer, Amanda Vachon, Desiree Kapelari. Great grandfather to many.
After losing his beloved wife to cancer after 15 years of constantly fighting, supporting, caring for and struggling through 5 different types of cancer with Heather, no more pain, no more suffering and Andrew joins Heather once again in and for Eternity. Andrew was a strong man with a vibrant personality, a spice for life and a strong determination. May you both rest in peace.
Andrew was very much an outgoing personality with a soft heart. He always had a great story to tell and would always be there for whoever needed his help. He was un-waivered in his loyalty to his wife Heather and family and he was a person we could always count on to go out of his way. His happiest years were when he was living and working in the NWT and his family was with him. He will be sorely missed by so many.