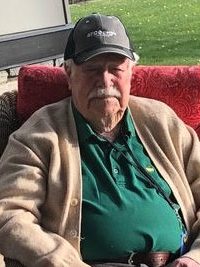 Andrew John Birchill
Andrew Birchill passed away on November 16, 2020 at the age of 92.
Andy was born in Jospedal, Norway and immigrated to Canada at the age of 1 ½. His family settled in Lougheed, Alberta where they started farming. He went university and graduated with a Bachelor of Education and later in life he got his master's degree in administration. During this time, he bought farmland, taught school and worked the land for many years. When he retired from being a superintendent of schools, he built a beautiful home for Wilma and himself and they spent 30 years living on the farm. Andy loved farming and his big garden. They spent several winters in Arizona. Andy loved being around people and being part of a community. He was loved by everyone who knew him. Andy taught himself to play the fiddle when he was 70. He had such a love of music. He loved to jam with his friends in Camrose, this was the highlight of the week. On holidays when the family got together, everyone brought their instrument and how he loved that time jamming with the whole family.
Andy was well known at a few fiddle camps that he would attend yearly. Wilma would go with him and they would have such a great time. They made such an impact on the fiddle community that Calvin Vollrath wrote a fiddle tune called "Ode to Andy and Wilma".
Andy loved life and always made the most of it.
He is survived by his wife and best friend Wilma of 66 years. His children Dave, Adele, and Anne Marie. Lori his daughter in law and Bruce his son in law. He is also survived by his grandchildren Elizabeth, Andrew, Cameron, David, and James.