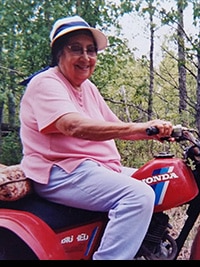 Angeline Eckstein
On February 15th 2018 Angie (Grams) passed away at Misericordia Hospital at the age of 89 with her family by her side.
Angie is survived by:
Husband: Herman
Children:
Gordon (Rita), Linda (Ray), Wilma (Mike), Sofie (Gerard), Carl (Tanya), Cindy (Daryl), Tina (Wade), Freda (Bryon), Billy (Faye)
Grandchildren:
Michelle, Jay, Kimberly (Roger), Kurt, Cameron (Melissa), Tanya, Shaun (Amanda), Dean, Robby (Vicky), Buffy (Wayne), Joey (Heather), Renae (Robert), Ashley (Sean ), Crystal (Danny), Jocelyn (Chris), Karl (Jackie), Hannah (Jowell) , Madisen,
Great Grandchildren:
Keishya, Aurora, Honor, Chase, Jairon, Raydon, Jayron, Jayden, Preston, Naomi, Kane, Courtney, CJ, Connor, Heather (Christina), Matthew, Serena, Brooke, Julia, Violet, Isabel, Angie, Chance (Tahira), Brandon, Brett, Bradley, Phonenix, Logan, Gage, Johntay, Austin, Landen, Brooklyn, Gavin, Liv, Faith, Amelia, Eleanor, Marigold, Charlotte, Jack
Great-Great Grandchildren:  Kayden, Mikayla
 Angie was born, the eldest of eight children to Casimir and Nora Willier in Joussard, Alberta. Known to everyone as "Grams" she was the joy and light in all of us, the glue that kept our family strong. She welcomed everyone into her home with her big heart and loving smile. Grams loved to knit, watch her soaps and above all spend time with her family. Music was always a big part of her life whether it was listening to Elvis, playing her Mandolin, or singing and dancing. Bingo and shopping were two of her favourite outings.
She was our very own Angel, we feel blessed by all the years we spent with her. She left a legacy of love and family, Grams will be forever held in our hearts. We take comfort that she is at peace and know we will see her again.