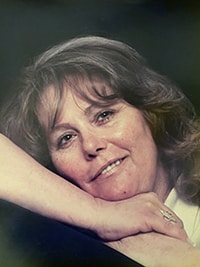 Anita Jeanine Colley Peever
With sad hearts the family of Anita Jeanine Colley Peever, 68, share her unexpected passing on January 6th, 2021 in Edmonton, AB.
Born in Dawson Creek, BC on January 5th, 1953 to Robert Keith Peever and Georgiana Genevieve Ball.
She attended Victoria High School and continued studies later in life, including training as a seniors home care aid and a florist. While helping many families and finding solutions for hunger in Canada, she was most well known as a board member for the Food Banks Canada Board of Director's and managing the Food Bank in Fort McMurray, AB for many years. There she earned high recognition and was awarded for being one of the board members that began the Fort McMurray Food Drive in 1993 and saving the Fort McMurray Food Bank from possible closure. The major success of those Food Bank Drives continue to this day and is currently known as the Syncrude Food Drive. As a young women she enjoyed the outdoors and horse back riding.
One of her first jobs, she worked for a big game guide and outfitter as a cook. She had a natural talent in the kitchen with cooking as well as baking. Often not needing the use for measuring tools. She had a green thumb and enjoyed taking her time to tend her own fresh gardens, as well as supporting local farmers.
She will be remembered for making everyone feel her love and smile through food, as this was one of her favourite things.
She is survived by her partner Roy, children Russell (Des), Bruce, Leneah (Jeff), Cara, Chèré (Rob), Cole, Carrissa, brothers Rocky (Kim), Rory (Melissa), sisters Juanita (Brent), Rhonda, grandchildren Ben, Emily, Jake, McKenna, Hunter, Lauren, Brynn, Hayden, Rylee, Kyptin, Jacob, Beckham, Bodhi and Hartley, fostered child Janice.
She was predeceased by her life partner Wayne, son Roth and many dear family and friends.