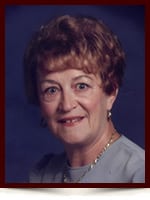 Anna (Anny) Leeb
June 29, 1922 - November 25, 2016
The family Leeb is sad to announce the passing of Anny Leeb on November 25/2016 peacefully in her sleep. She had no serious diseases or afflictions, her body just decided that 94 was enough.
Anna is survived by her children, David (Wolfi) Leeb and Gunther (Wally) Leeb and predeceased by her husband Walter Leeb. She has four grandchildren, Matthew , Katherine , Nicholas , and Makenzie.
Anny was born in Vienna, Austria to parents Anna and Leopold Bruckner. She lived through the bombings in Vienna during the second world war and emigrated to edmonton, alberta, canada in 1953 (on the famous Queen Mary btw. her shipping trunks still bear the stickers!).
Due to her love of classical music, she and dear friends from Club Austria created the Johann Strauss Foundation which still exists today. The foundation raises scholarship money for classical music education which is given to gifted local artists for further education with the best musicians/teachers in vienna,austria, the home of classical music. The foundation still puts on on the Johann Strauss Ball every february with members of the Edmonton Symphony and scholarship winners.
The date and place of her memorial service will be announced at a future date. It was her wish that her life would be celebrated at her parish, St. Joseph's Basilica.
It was her sincere desire that instead of flowers that donations be made to the Johann Strauss Foundation. Donation and foundation information is available online at JOHANNSTRAUSS.CA