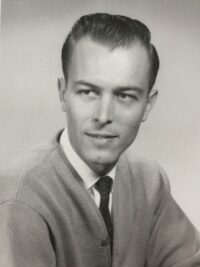 Arnold Henry (Arnie) BREITKREUZ
August 5, 1940
-
August 17, 2021
In the early morning hours of August 17, Arnie passed away peacefully at home, at the age of 81. He will be lovingly remembered by his wife of 60 years, Heidi (née Schulz); son Mark; daughters Jan (Bob) Frohlich, Sandra (Norm) Perrin, Rachel (Erik) Anderson; grandchildren Tyler (Dia), Dylan, Jesse, Isaac, Stephanie (Tim), Emily, Madeleine, Fisher, Arden; great-grandson Jace; sisters Selma (Paul) Younghans, Edna (Ed, deceased) Schulz, Elsie (Fred, deceased) Tonn; brother Larry (Hazel); sister-in-law Josie Laarz; and numerous relatives and friends. He was predeceased by his parents, Rudolf and Emilie; and his brother Ervin.
Arnie was born in a log cabin in Cherhill, Alberta. He spent the first two decades of his life on a Barrhead County farm which always stayed in his heart, furnishing a lifetime of stories and a love of horses and trees. He attended a one-room school in Belvedere, later taking the bus to Barrhead, where he graduated from high school. His love for learning and curiosity about the world continued throughout his life.
Arnie never tired of describing how he met Heidi when they were both 9 and loved her from that moment on. They were both baptized in the Pembina River on August 6, 1950. They married on September 2, 1961 and made their home in Edmonton.
Arnie attended Northwest Bible College and was a founding director of Youth With a Mission (YWAM) Canada.  He worked with YWAM in Hawaii and Switzerland, and InterAid and Black Forest Academy in Germany.  In between mission ventures, his career included time at Dun & Bradstreet, the University of Alberta, and in real estate and commercial insulation.  He also spent many summers in volunteer service. His great passions were serving the Lord and taking joy in his family.
During the last years of his life, one of Arnie's greatest joys was to sit out on the front porch of their home and talk with all who walked by, sharing stories and encouraging everyone he met.  
Due to COVID, there will be no memorial service at this time.  The immediate family will be holding a private internment celebration for Arnie.  
Memorial donations may be made to YWAMCanada.org for the support of the Discipleship Training School (DTS) programs.