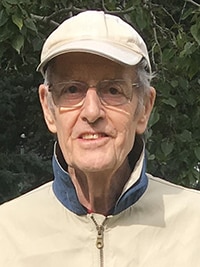 Arthur Richard (Dick) Tanner
Richard passed peacefully at the Edmonton General Hospital, Alberta, on December 18, 2019 at the age of 86 after courageously living for many years with Alzheimer's disease.
Richard was born September 21, 1933 in Sweetsburg, Quebec, a charming and scenic village an hour drive east of Montreal.  Born the third child of nine to Arthur and Pauline Tanner, Richard made the Sweetsburg area his home until graduating from high school.  Richard's work career began by trying his hand in the finance industry, then insurance sales and administration.  His work travels took him to Saskatchewan, Ontario, Newfoundland, the eastern townships of Quebec and eventually Alberta.
During a difficult economy in Quebec, Richard, with his wife and three children, moved to Edmonton, Alberta in 1978 to resume his career in the insurance industry.  Developing new friends and making new memories, Richard and his family made Alberta their home.  In 1983, after another economic downturn, this time in Alberta, he purchased a car and a taxi permit and started driving the streets of Edmonton.  Over the next 25 years, Richard found his calling.  With a captive audience in his cab, he was able to share his philosophies and his Christian faith to the Edmonton travelers he served.  With hundreds of colorful stories from his many passengers, Richard retired to spend quality time with his grandchildren and friends, while making time to travel to revisit his childhood friends and family in Quebec.
Richard is survived by his former spouse Merete Carstensen; children Stephen (Marlena), Karen and Patrick; grandchildren Amadea, Axel, Alixx and Max; brothers Gerald and Keville (Andre); sister Pauline.  Pre-deceased by his parents Arthur and Pauline, brothers Frederick, Roderick and his sisters Patricia, Joyce, and Mary-Louise.
The family wishes to thank the Extended Care team at Villa Marguerite and the doctors and nurses at both the Misericordia and Edmonton General Hospitals for their care and attention.  A special thank you to Pastor Robert Millman and his church volunteers for helping to prepare the memorial service.
Memorial Service
1:00PM Saturday December 21, 2019
Journey Church of God
10162 - 152 Street, NW, Edmonton, AB