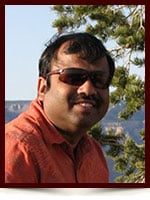 Ashok Nayak
March 13, 1970 - February 10, 2014
We regret to inform that Ashok Nayak, a technocrat resident of Edmonton, born in Odisha, India passed away on February 10, 2014 untimely following a massive heart attack in Edmonton, Alberta, Canada.
Left to cherish his memory is his wife: Sudha, two daughters: Mallika and Mrunalika, Parents and In-laws, and relatives in India and friends across the world. Ashok will be remembered by his family and friends for his qualities. We love you, Ashok.
Funeral & Cremation Service: 11:00 AM, Sunday February 16, 2014
Trinity Funeral Chapel
12134 - 66 Street, Edmonton, Alberta
ଆତ୍ମା, ନିତ୍ୟ, ନିରଞ୍ଜନ, ଅଜର, ଅମର |
ଆତ୍ମା ଗୋଟିଏ ଘଟରୁ ଯାଇ, ଅନ୍ୟ ଘଟରେ ରହେ|
ତେଣୁ ଞାନୀ ଆତ୍ମା ପାଇଁ ଶୋକ କରେ ନାହିଁ |
ଅଶୋକ ନାୟକ!
ଅଶୋକ! ତୁମେ ନାୟକ ଆଜି ଏ ଅନ୍ତିମ Trinity ସଭାରଆ, 
ବନ୍ଧୁବର୍ଗ କନ୍ୟା ପତ୍ନୀ ସବୁ ଏଠାରେ ହାଜର |
ସୁଧାମୟ ଜୀବନକୁ ଛାଡି ଯାଉ ଅଛ ବହୁତ ଦୁରକୁ,
ଆଜି ମଲ୍ଲିକା ଓ ମୃଣାଳିକା ଦେଖନ୍ତିନି ତୁମର ହସକୁ |
ବିଷ୍ନୁଙ୍କ ଭଳି  ଆଖିବୁଜି ଶୋଇଅଛ ଅନନ୍ତ ଶୟନେ,
ତୁମଙ୍କୁ ଦର୍ଶନ କରନ୍ତି ଜଣ ପରେ ଜଣେ ବନ୍ଧୁମାନେ |
ଏଠାରେ ନାହାନ୍ତି ଆଜି ତୁମ ବାପାମା ଭଗିନୀ ସୋଦର,
ସାଜିଛନ୍ତି ଶୁଭାକାଂକ୍ଷୀ ସାଙ୍ଗସାଥୀ ଦୁର ବିଦେଶର |
ଶୋକ ନ କରିବାକୁ ସିନା ତୁମ ନାଁ ଅଶୋକ,
ଦିବ୍ୟ ତୁମ ଦରବାରେ, ଆମେମାନେ ମଣିଷ ମାତ୍ରକ |
ସହପାଠୀ ପୂର୍ବତନ ବୁର୍ଲା ଛାତ୍ର୍ ଛାତ୍ରୀ ଶୁଣି ତୁମ ସ୍ତିତି,
ଗାଉଛନ୍ତି ତୁମ ଗୁଣଗାଥା ଡାକି ସୁଧା ବେଳ ଅହର୍ନିଷି |
ଶ୍ରୀପଞ୍ଚମୀ ପରେ ଆସିଥିଲା  ଶୁଭ ଏକାଦଶୀ,
ତୁମ ହୃଦୟ ବୁଝିଲା ନାହିଁ, ହରାଇଲା ତା ସ୍ତିତି |
ଜୀବନଯାତ୍ରାରେ  ଅନୁସନ୍ଧାନ କଲ କେତେ ଦେଶ ବିଦେଶ,
ଏଡମଣ୍ଟନ ସହରରେ ହୋଇଛି ତୁମ ଜଡ ଯାତ୍ରା ଶେଷ |
ତୁମ ଆତ୍ମା ବର୍ତମାନ ହୋଇଛି ମୁକ୍ତ ବିହଙ୍ଗମ,
ଆମଠୁ ବହୁ ଦୁରରେ ହୋଇ ଜୀବମୁକ୍ତ, ହୋଇଛି ଅସୀମ |
ପ୍ରଭୁ ଜଗନ୍ନାଥ କରନ୍ତୁ ତୁମର ସ୍ୱର୍ଗଯାତ୍ରା ସଫଳ,
ତୁମ ଆତ୍ମା ଶାନ୍ତି ହେଉ, ପ୍ରାର୍ଥନା କରନ୍ତି ସକଳ |
ବନ୍ଧୁ, ବାନ୍ଧବ, ବୁର୍ଲା ଛାତ୍ରବୃନ୍ଦ