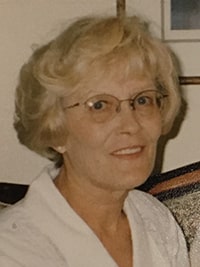 Audrey Ruth Filan
On September 21, 2018 Audrey passed away peacefully at Jubilee Lodge in Edmonton with her family by her side.
She was 81 and had been coping with Alzheimer's for several years. She is lovingly remembered by: her three sons and their families - Greg Filan (Ruth Spetter and Mia), Dave Filan (Michelle Naylor, Erin, Claire and Leah), and Brian Filan (Liz Filan, Nathan and Paul); her siblings Shirley and Merlin (Cheryl) Mittelstadt; nieces Teri Mulholland (Chris) and Carrie Suarez (Emilio); the Winter family (Janice, Greg, Pat and families) and many more extended family and friends.
She was predeceased by her husband, Jack Winter, and her parents, Adolf and Ruth Mittelstadt.
The family thanks the staff of Jubilee Lodge for their outstanding care of Audrey during her stay with them.
Please consider a donation to the Alzheimer Society of Canada in her memory.
Audrey's memorial service will be at 2 p.m. on October 12 at her church, Ascension Lutheran (8405 83 Street, Edmonton) with Pastor Barbara Groote officiating.