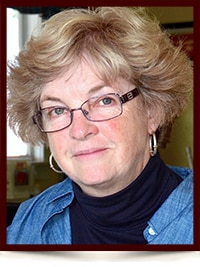 Barbara Florence Hansen (nee Bell)
16 August 1951 – 27 October 2017
Our beloved Barb (nee Bell), wife of Wayne, mother of Trevor and Jenny, grandmother of Monique and Natalia, sister of Jim Bell, sister-in-law of Shauna Mandlis, aunt of Nicole Mandlis and sister-in-law of David and Bev Hansen, has passed away. Numerous other relatives, neighbors and close friends from childhood, school, work and social groups are also left to mourn. She was predeceased by her parents, Doug and Eunice Bell.
Barb was a true life-partner to her husband, practicing her gentle arts at home and traveling extensively with him to six continents. She loved her children and grandchildren, making all things better.
Barb worked first as a nutritionist at the provincial level, then as a senior manager at Alberta Health, retiring in 2009. She was dedicated to this work and valued her ongoing contacts with colleagues.
She pursued many outside interests during work and retirement years, at all times remaining genuine, helpful and self-effacing. She especially enjoyed reading novels, watercolor painting, art classes, quilting, BBC, our cat JJ and connecting with friends.
She will be deeply missed.
Thanks to all her caregivers at the Cross and Royal Alex. Funeral details to be announced later.