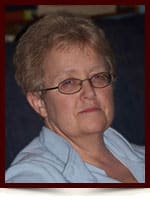 Barbara (Walker) Jama
Barbara (Walker) Jama
January 4, 1955 – July 22, 2015
It is with deep sadness that we announce the sudden passing of Barbara (Walker) Jama.
Barbara was born and raised in Welland, Ontario as the beloved daughter of Harold and Gloria Walker and dear sister of Robert and Deborah.
In her early twenties, Barbara moved to Edmonton, Alberta where she met her loving husband of 28 years, Mohamoud Jama and became the proud mother of three sons Collin, Mark, and Jason.
Barbara possessed many strengths and endearing qualities, however it was her compassion and love for her family and friends (pets included) that will be cherished in our memories forever.
In lieu of flowers, donations can be made to The Breast Cancer Foundation in Barbara's name.