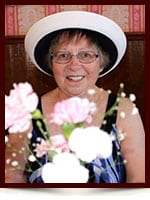 Beatrice Lillian Johnston
Bea (BJ) passed away on April 22nd, at the age of 77, in her home. She leaves behind her husband of 53 years Ken, her daughter Lori, her son Donald with his wife Tracey and his son Joshua, and her daughter Terri and her husband Brad and her son Edward. She leaves behind her sister Shirley (Wayne) and her brother Paul (Mary) along with many relatives and close friends. We lost her siblings Elmer (Elsie), Lorne (Marie), Laura, and Les (Phyllis) in recent years and miss them all greatly. She was a nurse for over 40 year with 25 years at the Royal Alexandra Hospital, and took that practical and caring attitude into her volunteer work during retirement. She was a grandmother who lived to make her grandchildren laugh. We will all remember her many talents and the incredible gifts she made for each of us over the years. She is now at peace.
Endless Love by Tilitha Waicekauskas
Mama crocheted miles of lace
And doilies by the score.
Bedspreads, afghans, tablecloths
Were added to her store.
Slippers, shawls and mittens
To keep her family warm,
Any every stitch became a prayer
To keep us safe from harm.
She's gone but I'm surrounded
By her endless love and prayers,
For Mama left behind the proof
Of how a mother cares.
Memorial Service will be held at Kirk United Church on May 14th, 2016 at 4:00 pm, with reception to follow.
If you wish we recommend Petals On the Trail (owned by a family friend) as an option for flowers. Donations can be made to the Cross Cancer Institute in mom's name at albertacancer.ca/donate/in-memory.