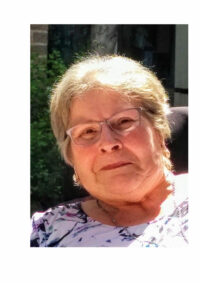 Betty Ingram
September 2, 1942
-
February 8, 2022
In Loving Memory of Betty Ingram
Betty Ingram of Edmonton, Alberta passed away peacefully on February 8, 2022 at age 79. She is predeceased by her parents Pearl and Matthew Stavert, sister Viola and brother Roy. She is survived by her sons Timothy, Shawn, Darren and Brian, many grandchildren, great grandchildren, her sister Violet (Jack), brothers Alfred (Connie), Alex (Leanne), Daniel (Ross) and nieces and nephews.
Betty enjoyed a great conversation. She had a fantastic robust laugh which she enjoyed sharing with others at the end of a joke or a humorous story. She spent time playing cards and was an avid reader. She made friends easily wherever she went, greeted everyone with a great big smile and from a small girl always had a very positive outlook on life. 
Family was important to Betty. She enjoyed spending time with her boys, all her grandchildren and great grandchildren and never missed a family gathering. Upon retiring, she appreciated going for coffee with friends and family. She loved her time in Kelowna with her sister and spent many nights around the camp fire engaged in banter with her brothers Alfred, Alex, Daniel and their families.
In her last five years at St. Joseph's Auxiliary Hospital, she made many new friends and loved the staff that cared for her like family. The staff were simply remarkable with their kind care, amazing support, shared laughter and always made Betty feel personally loved and cared for.  We are grateful to all. In lieu of flowers, Betty requested that a donation be made on her behalf to www.covenantfoundation.ca
She will be loved forever. A celebration of life will take place in the coming months.