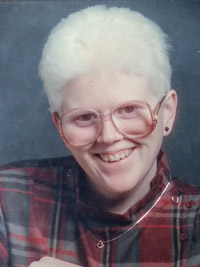 Bonnie Lynn Barris (Smith)
Bonnie Lynn Barris (nee Smith), died suddenly September 19, 2020, in Sherwood Park Alberta. She was born September 10, 1956, in Edmonton Alberta, the fourth daughter of Edward Warren and Joyce Evelyne (Short) Smith. 
Bonnie graduated from Bonnie Doon High School, Class of 1974. Following graduation, she attended Canadian Nazarene College in Winnipeg.. 
On November 29, 1990 she married Larry Barris, and they settled in Sherwood Park Alberta. Together, they had a son, Warren David in 1992. Bonnie and Larry were looking forward to celebrating 30 years of marriage in November. 
Bonnie retired from a 38 year career with Alberta Health Services in January of 2019. Her favourite activities revolved around her incredible singing voice, as a soloist, and in church and community choirs, as well as being a member of the Christian vocal group Adoration. 
She also treasured times sitting at a campfire with her friends and family on camping trips.  Although Bonnie was born legally blind, she was relentlessly positive, and never let her physical challenges be a barrier. 
She was predeceased by her mother, Joyce, mother in law Rose Barrass, and sister in law Cindy Barrass.. Surviving in addition to her husband Larry, are her son, Warren Barris and Bonnie's sisters, Wendy Rudyk (Gerry) of Devon AB, Brenda Moore (Doug), of Red Deer AB; Debbie Smith of Edmonton AB, and brother in law Dave Barrass (Barb) of Fabyan AB, as well as many nieces and nephews, and great nieces and nephews, all of whom she loved dearly.
 A service of remembrance will be held at a later date, perhaps when the current Covid restrictions are lifted.